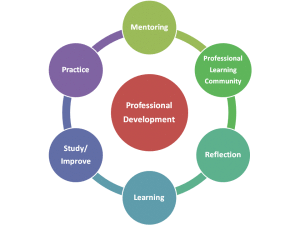 Professional Development can take multiple forms.  While I work within traditional training formats (face-to-face training), my focus has become one that mixes both traditional and non-traditional format training such as professional learning communities, communities of practice, e-learning/online courses, video conferencing and other technology-based instructional forums.  For example, I can conduct a formal workshop face-to-face training in a specific concept, and offer additional follow-up training by providing access to online learning communities.
Capabilities
I can provide a clearing-house for a variety of professional development concepts in multiple formats to meet the differentiated learning styles and needs of all stakeholders.
Face-to-Face Training
I can conduct face-to-face training to your employees, customers and leadership.  This includes organizing meetings and training conferences.
Professional Learning Communities (PLCs) & Communities of Practice (CoPs)
I can offer access to PLCs and CoPs in order to provide a safe place for discussion, sharing, and follow-up to formal training.  These forums can also provide participants with connections to other employees within the company or with specialists outside the organization who are implementing similar concepts and training.
Online / Asynchronous Training
I can develop and teach interactive online courses for both individual learners as well as learning groups (using a Learning Management System).  Each course would offer instruction, related resources, discussion forums, follow-up support and assessment.
Webinar / Course Development
I can work with Subject Matter Experts (SMEs) to develop professional development specific to the needs of your district.  I can create a library of subject specific webinars, which can then be presented live or captured within the online learning management system.
Master Trainer Development
I can train your Subject Matter Experts (SMEs) in adult learning theory, curriculum development, engaged learning and instructional design concepts in order to create a corps of trainers within the organization.
Samples
Presentation & Webinar Samples
Information Kiosk Samples