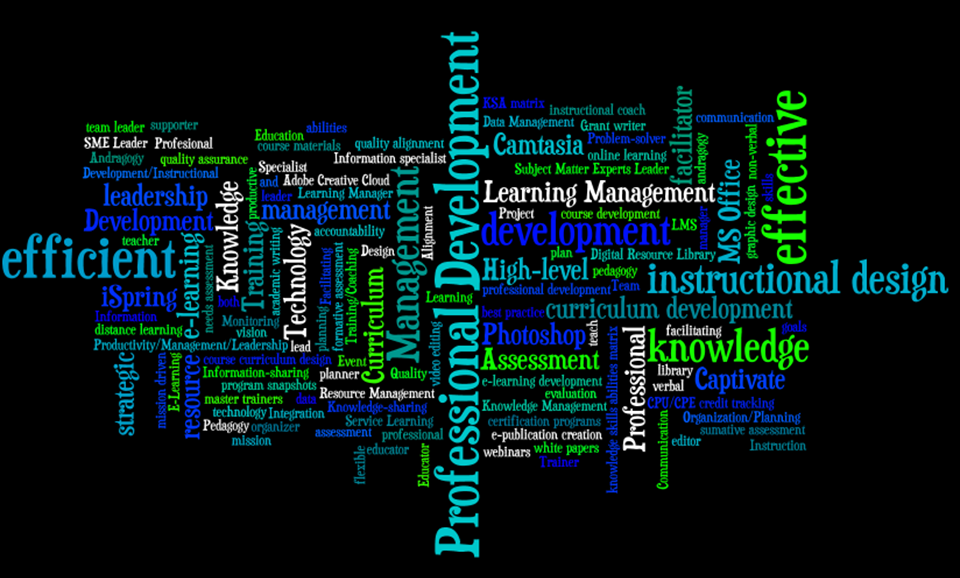 I have knowledge, skills and abilities primarily in the following areas:
Professional Development
Strategic Planning
Knowledge Management and
Quality Assurance and Alignment Systems (QAAS)
Team Leadership/Management
Technological Expertise
Other character traits and abilities include:
Exceptional listener and communicator who effectively conveys information verbally and in writing.
Highly analytical thinking with demonstrated talent for identifying, scrutinizing, improving, and streamlining complex work processes.
Flexible team player who thrives in environments requiring ability to effectively prioritize and juggle multiple concurrent projects.
Planning and organizational skills with a high degree of detail orientation and focus on effectiveness and efficiency.
High level problem-solver who can generate workable solutions.
Highly adaptable, mobile, positive, resilient, risk-taker who is open to new ideas
Productive worker with solid work ethic who exerts optimal effort in successfully completing tasks.
Conscientious go-getter who is highly organized, dedicated, and committed to professionalism.